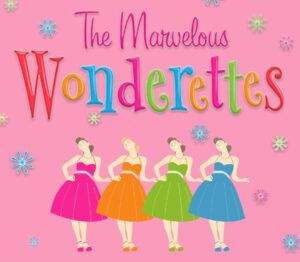 THE MARVELOUS WONDERETTES
by Roger Bean
Directed by Darlene Singleton
The show, a jukebox musical comedy, which uses pop songs from the 1950s and 1960s as a vehicle to tell its story, pays homage to the high school songleader squads of the 50s.  When called upon to perform at their senior prom as a last minute replacement, Springfield High Songleaders Betty Jean, Cindy Lou, Missy and Suzy, rally together to entertain their classmates in four-part harmony. The second act shows the four ten years later at a high school reunion. The musical includes the songs "Lollipop", "Dream Lover", "Stupid Cupid", "Lipstick on Your Collar", "Hold Me, Thrill Me, Kiss Me", "It's My Party", and "It's In His Kiss (The Shoop Shoop Song)".
Performance Dates:  January 21, 22, 23, 28, 29, 30, February 4, 5, 6 ~ 2022

OVER THE RIVER AND THROUGH THE WOODS
by Joe DiPietro
Directed by Gene Fields
Nick is a single, Italian American guy from New Jersey who sees both sets of grandparents every Sunday for dinner.  This is routine until he tells them he has been offered a dream job and is moving.  The news does not sit well with the grandparents and thus begins a series of schemes to keep him around.  Over the River and Through the Woods is a warm-hearted, boisterously funny, and touching story about intergenerational relationships, deep familial love, and the inevitable little heartbreaks that occur as time passes and children grow.
Performance Dates:  March 18, 19, 20, 25, 26, 27, April 1, 2, 3 ~ 2022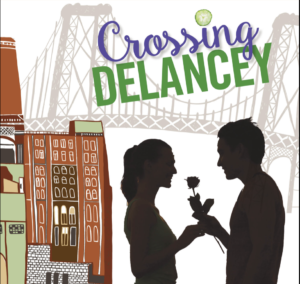 CROSSING DELANCEY
by Susan Sandler
Directed by Felicia Sykes
Isabel is a modern young woman who lives alone and works in a book shop. When she is not pining after a handsome author, she is visiting her grandmother (Bubbe) in Manhattan's Lower East Side. This irascible granny and her friend the matchmaker have found a "good catch" for Isabel, whose initial reluctance gives way to a blossoming romance when she finally meets Sam, the pickle vendor as the end of the play offers a new beginning.
Performance Dates: May 6, 7, 8, 13, 14, 15, 20, 21, 22 ~ 2022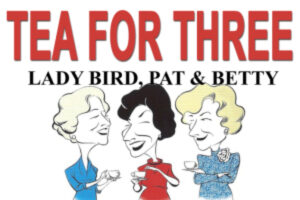 TEA FOR THREE
by Eric H. Weinberger and Elaine Bromka
Directed by Darlene Singleton
What is it like for a woman when her husband becomes the president of the United States—and she is suddenly thrust into the spotlight? This witty, sly and deeply moving play explores the hopes, fears and loves of Lady Bird Johnson, Pat Nixon and Betty Ford. In three scenes taking place in the family quarters of the White House just prior to the end of living there as the wife of a president, each of the women confides alone to the audience. Secrets are spilled about their early years, their husbands' rise to power, their romances with the men, their unique paths as wives in the White House, and their feelings about imminent retirement.
Performance Dates:  September 16, 17, 18, 23, 24, 25, 30, October 1, 2 ~ 2022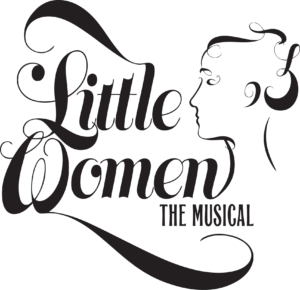 LITTLE WOMEN THE MUSICAL
Music by Jason Howland / Lyrics by Mindi Dickstein / Book by Allan Knee
Directed by Clair Williamson
Based on Louisa May Alcott's life, the story follows the adventures of sisters, Jo, Meg, Beth and Amy March. Jo is trying to sell her stories for publication, but the publishers are not interested – her friend, Professor Bhaer, tells her that she has to do better and write more from herself. Begrudgingly taking this advice, Jo weaves the story of herself and her sisters and their experience growing up in Civil War America.
Performance Dates: November 18, 19, 20, 25, 26, 27, December 2, 3, 4 ~ 2022