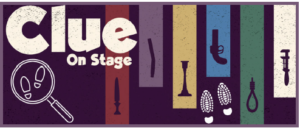 Auditions: CLUE ON STAGE
Directed by Clair Williamson
Auditions will be held Saturday, December 3 at 1pm
RCP is a 501c3 non-profit organization. There is no compensation for any of the actors.
Audition Location:
Rockwall Community Playhouse
609 E. Rusk
Rockwall, Texas 75087
972-722-3399
For our 28th Season RCP is seeking a diverse cast of excellent actors to audition for CLUE!
PERFORMANCES: February 3 – 19, 2023
(Fridays & Saturdays at 7:30 pm and Sundays at 2 pm).
AUDITION REQUIREMENTS
– Please bring a current headshot and resume
– Each actor may prepare a monologue or will be given a reading from the script. Actors may be asked to read in groups as well.
CAST OF CHARACTERS
WADSWORTH is a traditional British butler in every sense: uptight, formal, and "by the book." He is the driving force in the play.
YVETTE is a loyal and sexy French maid.
MISS SCARLET, a dry, sardonic D.C. madam, more interested in secrets than sex.
MRS. PEACOCK, the wealthy wife of a senator. A bit batty, neurotic, and quick to hysteria.
MRS. WHITE, a pale, morbid, and tragic woman. Mrs. White may or may not be the murderer of her five ex-husbands.
COLONEL MUSTARD, a puffy, pompous, dense, blowhard of a military man.
PROFESSOR PLUM, an arrogant academic, is easily impressed by himself.
MR. GREEN, a timid yet officious rule follower. He's awfully anxious.
ENSEMBLE WOMAN:
THE COOK, a gruff woman with a threatening presence. (Alive and Dead.)
SINGING TELEGRAM GIRL, a tap dancer with a heart of gold.  (Alive and Dead.)
AUXILIARY SCARLET, the back of Miss Scarlet during a scene of theatrical trickery.
BACKUP COP, backup for the Chief in the very final Cop entrance.
ENSEMBLE MAN 1:
MR. BODDY, a slick, Frank Sinatra, film noir-esque type fella. (Alive and Dead.)
THE MOTORIST, a professional driver. (Alive and Dead.)
CHIEF OF POLICE, a cop who helps to save the day.
ENSEMBLE MAN 2:
THE UNEXPECTED COP, a regular Joe. (Alive and Dead.)
BACKUP COP, backup for the Chief.
AUXILIARY MUSTARD, the back of Colonel Mustard during a scene of theatrical trickery.