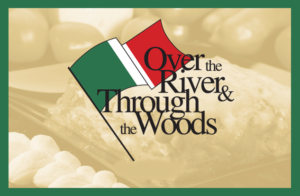 Auditions: OVER THE RIVER AND THROUGH THE WOODS
Written by Joe DiPietro
Directed by Gene Fields
Auditions will be held on Saturday, February 5th at 1pm.
You must be willing to make the rehearsals and performances a priority.  Please review the rehearsal schedule in advance.
Nick Cristano may be living the life of a modern young professional in New York City, but his loving grandparents never let him forget where he belongs: in New Jersey, in the bosom of his tenacious, tender-hearted, loud, loving, and well-fed Italian-American grandparents, who live two doors down from each other in Hoboken, and who lavish all of their affection on their last unmarried grandchild. Faithfully, Nick goes "over the river" to Grandma's house every week for Sunday dinner. When he is offered an important promotion in Seattle, Washington, Nick threatens to break this routine by a distance of some 2,800 miles!
Frank, Aida, Emma, and Nunzio are heartbroken at the prospect of their beloved grandson raising a family all the way across the country — or worse, not raising a family at all! Besides the usual tactics of emotional blackmail, in order to keep him safe at home, these wily elders cook up a matchmaking scheme, inviting lovely nurse Caitlin O'Hare over for Sunday dinner. Will the prospect of true love keep Nick from moving across the country? Over the River and Through the Woods is a warm-hearted, boisterously funny, and touching story about intergenerational relationships, deep familial love, and the inevitable little heartbreaks that occur as time passes and children grow.
Auditions and rehearsals will follow recommended CDC protocols for safely gathering including temperature checks, face masks (except when auditioning and rehearsing), hand sanitizer, and social distancing in the theatre.
AUDITION REQUIREMENTS
– Prepare a Monologue
– Cold reads will be done between characters
– Please bring a current headshot and resume
CHARACTER BREAKDOWN
All Roles Currently Available. Cast
Nick Cristano – Male in his 30's
Frank Gianelli – Nick's maternal grandfather
Aida Gianelli – Nicks maternal grandmother
Nunzio Cristano – Nick's paternal grandfather
Emma Cristano – Nick's paternal grandmother
Caitlin O'Hare – Attractive female in late 20's.
Time Commitment: Please make sure you can fully commit to the rehearsal period and performance schedule before auditioning.  Rehearsals begin immediately upon casting (typically rehearsals will be held on Mon/Tues/Thurs 7-10pm and a few Saturdays & Sundays).
Performance Dates:  March 18 – April 3, 2022
RCP is a 501c3 non-profit organization. There is no compensation for any of the actors.
Audition Location:
Rockwall Community Playhouse
609 E. Rusk
Rockwall, Texas 75087
972-722-3399